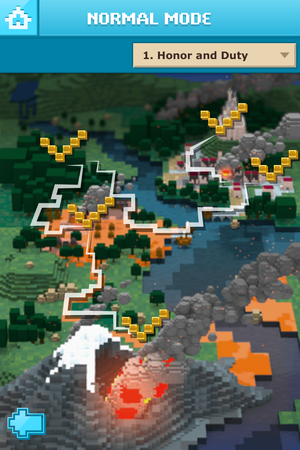 Honor and Duty is the first journey area in "Normal Mode."
Introduction
Edit
Sownfield
Edit
BOSS: YL-1 Courser
01 A Dragon Once
02 Watched Over
03 This River
04 Broad and Sweet
05 But Into This
06 Fertile Plain
07 Came Invaders
08 And Took All
09 Who Tarried
STORY
Stradbally
Edit
BOSS: YT-1 Livid
01 One-Street
02 Village Fair
03 By The Forest
04 Game Preserve
05 Of Landgraves
06 Here, Life Is
07 Good and Slow
08 To Change But
09 Alter it Must
STORY
Graveswood
Edit
BOSS: YT-2 Flathead
01 Sun Dappled
02 Full of Game
03 For Lowly Bow
04 Or Noble Hawk
05 This Forest
06 Enjoys Favors
07 Of Gallants
08 From 'Down to
09 The Very Hold
STORY
Castledown
Edit
BOSS: YL-2 Rancor
01 Home It Is
02 To Coiners
03 Swashbucklers
04 This City On
05 The Hill Of
06 High Honor
07 Bright Steel
08 And Dim View
09 Of Other Ways
STORY
Alabast Hold
Edit
BOSS: YL-3 Scarab
01 A Keep For
02 A Millennia
03 Sieged Three
04 Scores Ago
05 By Fire Theri
06 With Counsel
07 Of a Defender
08 The Rancor
09 Precedes You
STORY
Ad blocker interference detected!
Wikia is a free-to-use site that makes money from advertising. We have a modified experience for viewers using ad blockers

Wikia is not accessible if you've made further modifications. Remove the custom ad blocker rule(s) and the page will load as expected.