About
The In-Game Forums are an in-game Forum that was released with the game.
The Forums are often equated to chatting via forum posts; you often have to repeatedly spam a given message for it to be seen by a large portion of the community.
For statistics, you can visit the in-game Forum and note the amount of posts in each subforum.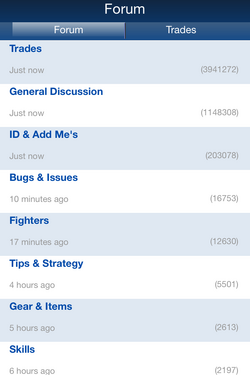 Subforums
General Discussion is a place where people chat about anything, including Defender of Texel.
Trades is a place where people share their "LF" (Looking Fors) and "TA" (Trading Away) information.
ID & Add Me's is where people can spam their Invite ID and Friend Requests.
Bugs and Issues is where people can share their technical difficulty with the game.
Tips & Strategy is intended as a place for discussion of game strategy.
Fighters is intended as a place for discussion of Fighters.
Skills is intended as a place for discussion of skills.
Gear & Items is intended as a place for discussion of gear and items.
Boss Forums are discussions of Bosses; though they are generally used for spam.

The in-game Forums support a hashtag system similar to Twitter, all posts marked with a specific hashtag are easily searchable via the search bar.
Furthermore, the search bar also allows you to search specific users and find all their existing posts.
Ad blocker interference detected!
Wikia is a free-to-use site that makes money from advertising. We have a modified experience for viewers using ad blockers

Wikia is not accessible if you've made further modifications. Remove the custom ad blocker rule(s) and the page will load as expected.